If you are reading this, we are so sorry that you are going through these challenging times. No matter your feelings on the divorce, child custody or other situation, it is still a difficult time for those involved, including your parents and the rest of your family. This challenging situation you are going through may have introduced some uncertainties in your life.
You might be asking yourself:
How do you get divorced?
How do you divide your assets?
Am I eligible to receive alimony?
How is child custody and parenting time decided?
Am I eligible to receive child support?
You need to be able to focus on getting you and your family though this challenging time. You need someone you trust and whom you can count on to act in your best interests.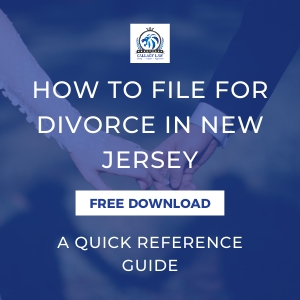 You Need A Protector, A Guardian, A Champion.
Divorces, questions of child custody and even the conversation of child support can bring a side of a person you might not recognize and you need to have someone by your side supporting you and helping both parties come to an agreement or have the court make a decision for both of you.
To aid you in understanding the New Jersey divorce process, the Family Law team at Callagy Law has put together a set of simple road maps showing the common steps in a New Jersey divorce.
Our team of Family Law attorneys include two certified matrimonial attorneys, along with a court approved divorce mediator. Callagy Law is one of only two law firms (yes, only 2) in the United States to have 2 Top 100 National Jury Verdicts between 2014 and 2016, including Arizona's 2016 Top Jury Verdict. Our Medical Revenue Recovery Team has recovered over $300 million for our medical provider clients, $50 million being in just 2017 alone.