Hala Jaloudi, Esq.
Partner, Personal Injury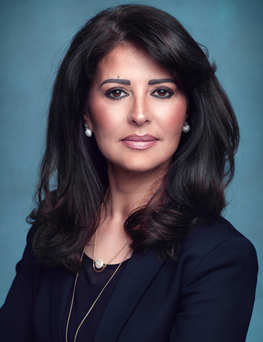 Bar Admissions
New Jersey State Court, New Jersey Federal District Court
Pennsylvania State and District Courts
Education
Rutgers University – Bachelor of Arts with Honors
Seton Hall University School of Law – Juris Doctorate with Honors
About Hala
Hala Jaloudi is a partner at Callagy Law and heads the personal injury department. She has practiced in all areas of personal injury including automobile accidents for over 20 years. Prior to joining Callagy Law Hala Jaloudi founded and was a senior partner in her own law firm. She started her practice one client at a time and in a relatively short time she was representing thousands of clients all referred by word of mouth.
Hala has successfully handled thousands of personal injury claims and has a proven track record. She has obtained multimillion-dollar settlements and verdicts on behalf of her clients. Her clients describe her as a person of integrity and compassion. She treats every client as if they were her only client. She has a profound understanding and respect for the trust clients place in her. As such, she is meticulous, thorough and caring in every step she takes. She is widely respected by her peers and the judiciary as a knowledgeable, prepared, and highly capable attorney.
Hala is very passionate about helping injured victims and fights relentlessly for their rights. She is urgent, caring and aggressive in prosecuting claims on behalf of her clients. Hala is uniquely accessible to her clients and exhibits a level of compassion and caring unparalleled by other attorneys. Her clients needs always come first. Amongst those is a car accident case wherein the damage to the vehicle was only $200.00 and the injury was only a disc bulge. Hala tried this case and obtained a $300, 000.00 verdict for her client. She also litigated a complex jurisdiction issue related to an automobile accident which occurred overseas. She took the case to the New Jersey Supreme Court, which rendered a favorable decision that ultimately resulted in a seventeen million dollar settlement.
Fun Facts About Hala
When not practicing Law, Hala Jaloudi loves spending time with her family and two children.  She is one of 10 siblings. She enjoys music and books. Hala also loves to travel and lived overseas for a period of 7 years, but nothing compares to her deep love for New Jersey where she was raised and educated and practiced law for over 20 years. The benefit of living abroad and travel, have given Hala a deeper insight of the world and people.  She believes this makes her a more empathetic and caring lawyer who profoundly understands that each person has unique and distinctive needs.  One size does not fit all. This belief is reflected in how she treats every client, with respect, caring and empathy.
Professional Associations and Memberships
New Jersey Bar Association
Public Defender Borough of Englewood Cliffs: 1996-2004
Board of Health Attorney Borough of Englewood Cliffs: 2004-2009
Best Oral Argument in Moot Court Competitor
Hala's Life at Callagy
I was introduced to Callagy Law by my brother, who is also an attorney.  My brother mentioned to his friend, also an attorney, that I was looking to start on a new path in my career. That attorney, in turn, was talking to James Greenspan, Esq.  who is a Callagy attorney, and informed him that I was looking.  James called and the rest is history.  When I met Sean Callagy, I was immediately impressed with his positivity, transparency authenticity, and tone.  Sean Callagy is not like any lawyer I have come across before. I realized that Callagy Law is a unique firm that I wanted to be a part of.
I am a partner and the lead attorney of the Personal Injury Department. When people suffer injuries as a result of accidents, their lives are often severely disrupted and put on hold.  In addition to dealing with their injuries and pain, they may become stressed and overwhelmed with the legal process. I genuinely understand this and my passion is to help injured victims through this very difficult time in their lives. I am determined to hold the responsible parties accountable and obtain just and adequate compensation for my clients.
I was instantly drawn to Callagy Law 's mission: " to fundamentally change the way people feel about lawyers one client at a time."  These words resonated with me due to the fact that this was my belief and how I had practiced law for twenty years.  My success was founded and based on the way I treated every client.  Callagy Law lives by these words in everything they do.  This is evident in the respect and caring they give their clients, the urgency they exhibit in tending to the clients' needs, as well as the aggressiveness with which they defend, fight for, and protect their clients' interests.  In addition, Callagy law is a team of 100 plus highly competent and caring individuals.  Callagy has an unparalleled team of litigation attorneys who are the absolute best at what they do. Sean Callagy is not only a highly respected and brilliant attorney, he is a very caring, empathetic individual who always put clients first.
Sean Callagy and the Callagy Law team are passionate and take pride in being a voice for those who are not heard, for the wronged, and the underdog. What is also unique, is that Sean Callagy is committed and invested in the team's personal development and growth.  The level of support, training, mentoring that Sean dedicates every day to all of the Callagy Law employees does not exist in other law firms.  Each and every day Sean is on a conference call will all 100+  employees training, encouraging, coaching, and guiding the team to be the best version of themselves.  He is genuine and authentic in his passion to help clients as well as support the team. By the way, Sean is also a certified coach who spent the last two decades as well as thousands of dollars to gain this knowledge he shares with the team.  This is extremely important to note because if the founder of the firm is willing to dedicate this much time and effort to help the team grow, develop, and feel significant, it will, in turn, lead to better, more capable, more qualified individuals who will be more productive and successful in serving clients.
Callagy Law is more than just a law firm, it is a family with a unique philosophy and set of values and beliefs that they are here to serve clients with honesty, integrity, and empathy.  They are urgent, caring and aggressive in serving clients.  Sean Callagy and the Callagy law team also have the record to back up these words.  Callagy Law is one of only two law firms in America with Two top 100 National Jury Verdicts between 2014 and 2016 (33 million and 27 million in cases they were told they had NO chance). They recovered 50 million dollars from insurance companies last year.
The Callagy Law family is also a fun, caring, generous and unique environment.  People actually love to come to work.  Annual Christmas Tree cutting excursions, Award giving ceremonies, entire office trips to Grand Cayman are just a few of the examples of the adventures that take place at Callagy Law.  More importantly, every member of the Callagy team is recognized, appreciated, encouraged, and supported by Sean Callagy.  A happy team, who loves what they do results in a team who will work with passion, dedication, and integrity, to achieve great outcomes for clients.