Robert Solomon, Esq.
Senior Litigation Attorney & Lead Driver of Commercial Insurance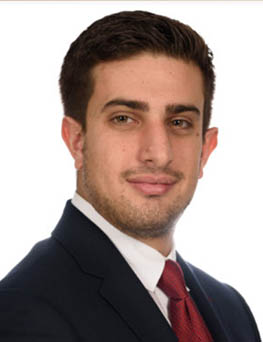 Bar Admissions
New York State
Southern District of New York
Eastern District of New York
New Jersey State
New Jersey District Court
About Robert
Robert is a Jersey-boy born and raised. While he absolutely love New Jersey and doesn't plan on moving anytime soon, he also really loves to travel. His favorite places he has traveled are France, Morocco, and Israel.  His exposure to different countries and cultures, cultivated a willingness to always try new and exciting things in life. Perhaps, this is a reason why in college he majored in documentary filmmaking and television production. While he would not trade his college experience and major for anything, he eventually knew that his future did not lie in the television production field but rather in Law.
Studying for law school, going to law school, becoming a lawyer, and practicing law, has been one of the most rewarding life experiences for Robert. He has always enjoyed being intellectually challenged and pursuing mental growth and development. What makes the practice of law great, is not only can he challenge himself and grow intellectually, but he can do that while advocating for victims, exacting justice, and making a difference in people's lives.
Education
Montclair State University, Bachelor of Arts
Rutgers Law School, Newark, Juris Doctorate
Fun Facts About Robert
Has Traveled to Over 15 Countries
Big Game of Thrones Fan
Loves the New York Jets
Robert's Life at Callagy
I began at Callagy Law as a summer intern after my second year of law school. After the internship, I was hired as a law clerk until I completed law school, and became an attorney with the firm after I passed the bar.
I am a senior litigation attorney in the Litigation department. My practice primarily focuses on business law, formation and contracts, partnership disputes, commercial litigation, commercial fraud. I am also in charge of the Will, Trusts and Estates Practice area for the firm. I primarily practice in both State and Federal Court in New Jersey but I have been lucky to appear nationwide on behalf of my clients.
I have been with Callagy Law since the very beginning of my legal career, Sean, Michael and the team were incredibly welcoming and gave me opportunities that few, if any, other firms would have given. Callagy Law has also given me a place to create and grow my own practice areas as well as provide
Sean and the team focus primarily on each teammates learning, growth, and development. Where most law firms today will use associates for their hours and provide nothing in return, Callagy Law invests heavily in its employees to ensure that they are both at the top of their respective fields, and to lead fulfilling personal lives.