Christopher R. Miller, Esq.
Senior Litigation Attorney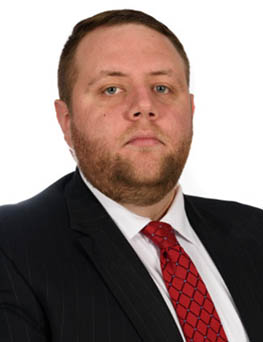 Bar Admissions
New Jersey State Court
New Jersey Federal District Court
Education
Marist College, Poughkeepsie, NY – Bachelor of Arts (Psychology)
Rutgers Law School, Newark – Juris Doctorate
About Christopher
Christopher is a New Jersey native who has opinions on whether Central Jersey exists (it does).  After graduating from Marist College where he played saxophone, he attended Rutgers Law School. During law school, he was a member of the Community Law Clinic which focused on providing free legal services to Non-profit companies in New Jersey, and the Rutgers Law Record, an online legal publication.
He joined Callagy law in 2013 as a law clerk and helped the firm achieve a 33.5-million-dollar jury verdict one month before sitting for the bar exam. He has been a part of the litigation department since joining the firm and was also a member of the trial team which achieved a 27-million-dollar jury verdict in 2016. In addition to large fraud cases, he has been granted the opportunity to represent a large cross section of clients from doctors and other professionals to infants and families, all who needed help in various civil matters.
Christopher's Life at Callagy
I began at Callagy Law as a summer intern after my second year of law school. After the internship, I was hired as a law clerk until I completed law school, and became an attorney with the firm after I passed the bar.
I am a senior litigation attorney in the Litigation department. My practice primarily focuses on business law, formation and contracts, partnership disputes, commercial litigation, commercial fraud. I am also in charge of the Will, Trusts and Estates Practice area for the firm. I primarily practice in both State and Federal Court in New Jersey but I have been lucky to appear nationwide on behalf of my clients.
I have been with Callagy Law since the very beginning of my legal career, Sean, Michael and the team were incredibly welcoming and gave me opportunities that few, if any, other firms would have given. Callagy Law has also given me a place to create and grow my own practice areas as well as provide
Sean and the team focus primarily on each teammates learning, growth, and development. Where most law firms today will use associates for their hours and provide nothing in return, Callagy Law invests heavily in its employees to ensure that they are both at the top of their respective fields, and to lead fulfilling personal lives.
Fun Facts About Christopher
Plays saxophone in a Rock band in Jersey City and Asbury Park
His favorite vacation is going down the shore with his wife and dog "Chip"
Professional Associations and Memberships
New Jersey Bar Association
American Bar Association