Whether you are treating COVID-19 patients or your practice is shut down, in whole or in part, due to social distancing, it is important that you, the healthcare provider, address head on the revenue impact on your practice and take steps toward maximizing your revenue stream where you can. With the exception of treatment for COVID-19 and other limited Emergency Room (ER) activity, medical treatment has been greatly reduced, affecting the ongoing financial viability of many medical practices. Indeed, because elective surgeries have been largely placed on hold, many practices and facilities are struggling with healthcare revenue declines due to COVID-19.
Aggravating the situation is the fact that people are not driving and no one is going to the workplace, meaning there are fewer victims of motor vehicle accidents and fewer workplace injuries. While of course it is good news that fewer people are suffering from accidental injuries, it does adversely affect healthcare providers, many of whom specialize in treating such patients. The discussion below seeks to cover all aspects of healthcare revenue recovery in the era of COVID-19.
Section one addresses the revenue challenges of those treating COVID-19 patients, since many of the providers treating COVID patients might not be familiar with the legal and regulatory environment governing that treatment. Section two addresses steps medical providers can take now and in the future to assist in mitigating revenue declines due to COVID-19 in light of the reduced medical activity within their practice areas.
1. Acquiring Reimbursement for Treatment of COVID-19 Patients
Most of the media attention has been directed at the federal government's efforts to ensure that medical providers effectively treat COVID-19 patients. This has come in the form of additional funding for hospitals, and guarantees that carriers will reimburse for such treatment and that medical providers will not balance bill patients. What has not been discussed, and what this article attempts to address, is how COVID-19 treatment fits into existing state regulatory and legislative schemes for reimbursement to healthcare providers.
For example, in 2018, New Jersey passed "Surprise Medical Bill" legislation that established an arbitration process, whereby medical providers were prohibited from balance billing patients for ER or inadvertent out-of-network (OON) treatment. Part of that legislation was an arbitration process whereby healthcare providers could challenge the payments for such treatment. It is a process with very tight time frames for notifying a carrier the payment was not adequate and for subsequently arbitrating the claim.
So, if you are an OON pulmonary doctor or cardiologist, and if you typically do not see ER patients, but now, due to COVID-19, you are seeing ER patients almost exclusively, you need to ask yourself a very important question: What do I do when I feel like I am under-reimbursed by the carrier for my treatment of a COVID-19 patient? At this point, we all like to think these types of disputes will not be happening because we are all pitching in and doing the noble thing during this crisis, but it is likely reimbursement from insurance carriers will, to one degree or another, amount to underpayment for medical services. Practitioners and facilities not accustomed to the ER OON arbitration process need to be mindful of its machinations because it is through that process that proper reimbursement will be secured.
This concern is certainly not limited to cardiologist and pulmonary doctors. This applies to any practitioner treating a COVID-19 patient on an OON basis who is not accustomed to the OON arbitration process. Spine and orthopedic surgeons, plastic surgeons, and others who traditionally were on ER call are likely familiar with these arbitrations. Those who are not accustomed to this arbitration process, who now find themselves in the ER more than they ever envisioned, need to educate themselves and to do so quickly.
Another example is treatment subject to the Workers' Compensation (WC) laws. Many patients claim to have contracted the virus in the workplace. If this is the case, reimbursement to the medical provider will be governed by the WC laws, which provide that reimbursement will be a usual, customary and reasonable rates, commonly known as UCR. It is crucial that healthcare providers treating COVID-19 patients understand this. If you are a cardiologist or pulmonary doctor, you typically do not treat patients for workplace injuries. You are likely not familiar with workers compensation reimbursement and how it works. You need to become familiar with it, and quickly, if you want to ensure proper reimbursement.
2. Mitigating Healthcare Revenue Declines Due to COVID-19
Many practitioners and facilities are shut down, in whole or in part, due to the social distancing requirements imposed by the government and the overall fears associated with contracting the virus. Below are some ideas as to how medical providers can ameliorate revenue declines due to COVID-19.
Telemedicine. If you are not already doing telemedicine, you need to start. It is relatively easy to begin treating on this basis. This telemedicine resource for medical providers explains some of the legal ins and outs and discusses billing for these services. To a large extent, telemedicine is the future of medical treatment and medical practitioners who hope to survive need to get on board with it. Of course, it is no replacement for surgery and medical examinations when in-person analysis and diagnosis is called for, but it is the future for most basic medical examinations, which are the gateway to additional treatment.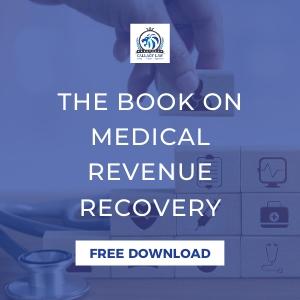 The 6-Year Claim Review. If you have not allowed us to conduct a 6-year review of your claims, now is the time to do so. This is not a review of your Aging Report or your Receivables; it is a review of all your EOB's going back six years. If your practice or facility has suffered from revenue declines due to COVID-19 social distancing, you need to dig into your claim history to see if there is any unrecovered money there. Why six years? Six years is the statute of limitations for both WC and New York No Fault, so any claims in those two categories will still be timely (unless affected by a network agreement). Also, as we work our way forward in time, at around year three we pick up a review of Commercial Insurance and New Jersey No Fault claims. Invariably, we find claims worth pursuing for the medical provider—sometimes worth thousands and sometimes worth hundreds of thousands. At times, we even discover claims worth millions. All these claims are pursuable on a contingent fee basis, and so, it costs you nothing out-of-pocket for us to perform the review and recover the money.
Remote Access to Claim Data. Medical providers refer claims in a variety of ways. Some refer claims by emailing or sending them to the firm; some give us access to their billing systems to review EOB's and claim data at their locations; some allow for a combination of both, where we review billing reports and highlight claims to pursue, which are then assembled at the provider location for pick up or delivery to the firm. But these were not the providers who were the best prepared for this new environment. The providers whose revenue streams did not skip a beat, or whose revenue streams were the least affected, were those who gave us remote access to their claim data as well as remote access to the records needed to assemble and pursue their files. As this is being written, we are identifying, assembling and filing claims for medical providers who trained us, prior to the COVID-19 crisis, in remote access to their systems. We are proceeding to service these medical providers as if the crisis never happened. Any medical provider should consider in the face of healthcare revenue declines due to COVID-19, and going forward, this process for claim referral.
If you have any questions or concerns, contact Tom LaGreca at tlagreca@callagylaw.com or at (201) 485-9587.