A sad reality of an auto-driven world is that accidents happen. Given New Jersey's size, density, and status as a hub for commuters, it is not surprising, perhaps, that there are over 273,000 crashes per year. Of these, nearly 63,000 result in injuries and nearly 600 result in fatalities. If we're "lucky," we come away with little to no damage, a fender bender that shakes us up. If not, then it is worth speaking with an experienced attorney to learn more about your options. If you just got in a car accident, what should you do?
Just Got in a Car Accident in New Jersey: What to Do
You're scared, confused, injured, adrenaline is pumping through your body. It can be difficult to think straight – but it is also essential to keep your wits about you so you can properly protect your safety, and, to be frank, your legal rights.
1. Prioritize Safety
If you can, remove your vehicle from the roadway. Do not leave the scene of the accident, but if you are able to, pull over to the side of the road, a parking lot, or another area so you are not putting other drivers on the roadway at risk. If you cannot do this, turn on your hazard lights and, if you have them, set up flares to alert other drivers and first responders.
You just got in a car accident, but try to remain calm. Check to see if you or any passengers are injured.
2. Report the Accident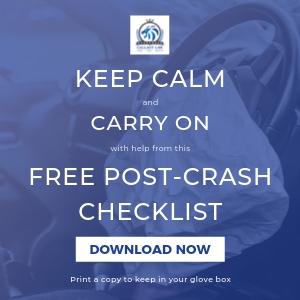 If there are injuries, call 911. You must report accidents that result in injuries and/or fatalities. Do so immediately, and wait for emergency personnel to respond.
Even if everyone appears unharmed, you must still report the accident if there is over $500 worth of damages to vehicles or property. This is a very low threshold, so in the vast majority of cases, you must call the police. If it is minor, you can call a non-emergency number. The police may not respond to the scene in these cases: if they do not, make sure that you collect the other driver's name, insurance information, and contact number. It's also a good idea to get a license plate number.
Again, if the police do not respond, you must send a letter to the Motor Vehicle Commission Agency within 10 days, informing them you just got in a car accident in New Jersey. Explain the circumstances and details of the crash.
If the police do respond, answer their questions as succinctly as you can. Do not add extra detail or guess. If you do not know an answer, simply tell them that. Don't try to fill in the blanks. Stick to the facts. Ask when and how you can access the police report: they should give you a referral or case number.
3. Observe
If you are able to physically, take note of the scene around you:
What are the weather conditions?
How are road conditions?
What time of day is it?
Was more than one other driver involved?
Are there any witnesses? If so, respectfully request their contact information. They do not have to give it to you, so remember to be calm and polite. If they prefer not to give you their information, ask them what they saw and make notes.
If possible, document the scene with photographs. Make sure to take pictures or video of your vehicle, the other vehicle(s), any visible injuries, the surrounding street, etc.
3. Notify Your Insurance Company
This may seem like a bureaucratic type of step, but it is essential. Many insurance companies require you to report your accident to them within 72 hours, and others require immediate notification. It is better, in any case, that you are the one informing them – not the other driver's insurer.
As with first responders, keep your answers succinct, and do not guess or speculate.
4. Seek Medical Attention ASAP
You may feel "ok" after a car accident, even if a little shaky. But you should still seek medical attention as soon as you can. Visit the ER or your regular doctor for an exam. The other party's insurance adjuster may try to get you to visit a specific doctor. Decline and say you will be treated at the emergency room or by your own provider.
The reasons for seeking medical attention are twofold:
One, if you just got in a car accident, adrenaline may mask symptoms. It can take hours or days for them to present, but they can be serious or life-threatening. Issues like concussion, internal bleeding, head/neck/spine injury, etc., may not be evident at the scene.
And two, if you decide to file a claim in the aftermath of your accident, having medical documentation as to your injuries is critical. It is also important in negotiating with insurance companies. You're protecting your health and well being – but also your legal rights. Go as soon as you can; even waiting a few days can be harmful to a potential case.
5. Contact an Experienced Personal Injury Lawyer
Speaking with an attorney is not about "getting the other guy" or seeing a big pay day. It's about protecting your rights and ensuring you have legal avenues to explore. It can be helpful, for instance, to consult with a personal injury attorney before speaking with a third-party insurance company. Often, they will offer a low ball settlement to get you to go away.
But it's worth pausing: is this really enough to cover my injuries? What if they worsen? What if I need more extensive treatment? What if I cannot return to work as quickly as I thought, or I cannot return to my previous job? All of these factors must be considered; your attorney can help you negotiate a settlement that is fair and appropriate for your situation.
And, if you do need to file a claim, your lawyer will fight for your rights. It can be intimidating to go up against other drivers, insurance companies, and judges on your own. You don't have to: Callagy Law is right here with you every step of the way.
If you just got in a car accident in New Jersey and have been injured, do not hesitate to contact Callagy Law. We are happy to offer you a free consultation so we can learn about your needs and offer you the best legal advice.