A car accident can throw your whole life into chaos. If you are injured, you're dealing with doctors, specialists, trips to the hospital or pharmacy. Maybe you're unable to work and worrying about how you will pay your bills. And then there's the pain: for many, it becomes a constant, and most unwelcome, companion. One of the most difficult aspects to contend with is unknowing. What will happen? What's next? Do I file a civil lawsuit for car accident injuries? How and when? Will I be properly compensated? We can give you the answers you need when it comes to the New Jersey car accident lawsuit process. Knowing what to expect can be incredibly helpful.
A Brief Overview of the New Jersey Car Accident Lawsuit Process
A quick timeline of a civil lawsuit for car accident injuries (we'll go into more detail on each item in a moment):
Report the accident.
Seek medical attention.
Consult with an experienced personal injury attorney.
Meet the New Jersey statute of limitations for filing a civil lawsuit for a car accident.
Discovery: gather and evaluate evidence.
Begin negotiations process.
Settle… or go to trial.
1. Report the Accident
In New Jersey, you are required by law to report accidents if they:
Cause $500 or more in property/vehicle damage
Result in injuries or fatalities
Call 911 or the local police department immediately. Ask the responding officers how and when you can access the police report. If no report is filed, you must file a report with the New Jersey Motor Vehicle Commission (MVC) within ten days. If you fail to notify the police and/or the MVC of a "reportable" accident, you may be subject to fines and penalties.
2. Seek Medical Attention
Some injuries are obvious: a broken bone is a broken bone. But others are masked by panic and adrenaline. Symptoms may not present themselves for hours or even days after the accident. Yet issues like concussion, head/brain trauma, neck/back/spinal injury, internal bleeding, etc., can be serious and even life-threatening. It is important to have a thorough medical exam as soon as possible. Go to the emergency room or to your own doctor to ensure your health and well being are protected.
(The other party's insurance adjuster may try to get you to see one of their "pre-approved" providers. Decline, and select your own.)
Seeking medical attention immediately is also an important step if you later decide to file a civil lawsuit for car accident injuries. You need evidence as to the nature and extent of your injuries.
3. Consult with an Experienced Personal Injury Attorney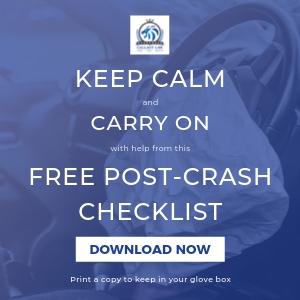 In the aftermath of an auto accident, your body and mind are often in a state of chaos. It can be difficult to think clearly – especially when you're worried about your physical, emotional, and financial health. This is completely understandable. At the same time, though, it is important to take steps to safeguard your rights.
Speaking with a personal injury lawyer will help you clarify the options available to you, as well as how to pursue them effectively. For example, if you consult with an attorney before speaking to a third-party (e.g., the other driver's insurance company), you position yourself much more advantageously in terms of any settlement offers. It's a sad truth, but these companies are likely to pull any trick up their sleeves in order to reduce (or even deny) your claim. When you have an advocate who puts a stop to these practices, you have a better chance of securing a reasonable settlement.
Callagy Law offers a free consultation, and we work on a contingency basis. There is no harm in reaching out for advice, even if you are not sure yet whether you want or need to file a lawsuit.
4. Meet the New Jersey Statute of Limitations for Filing a Civil Lawsuit for a Car Accident
In New Jersey, you have two years from the date of the accident in which to file a lawsuit. There are almost no exceptions to this rule; however, if the injured party is a minor, they have two years from the time they turn 18 in which to file. If the child's parents are filing a related claim (e.g., they missed work to care for the child), they do not get an extension. They must file within two years of the accident.
One other exception: if you are filing a suit against a government employee or agency, you must file a Notice of Claim within 90 days.
Two years may seem like a long period of time, but as you'll see, there is a lot of work to be done.
5. Discovery: Gather and Evaluate Evidence
Your lawyer needs to have a full understanding of your injuries. What are the nature and extent of your injuries? Have you reach "maximum medical improvement" (i.e., you're either completely healed or recovered as much as you likely will be)? Do you have long-term or permanent effects (e.g., limited range of motion, chronic pain, scarring, disability, etc.)? Is your condition likely to worsen? Will you require ongoing treatment?
During the discovery phase, your attorney gathers all of the relevant medical documentation to find the answers to these questions. They will also collect police reports and other evidence. Both parties exchange information, and your lawyer will issue a settlement proposal.
6. Begin Negotiations Process
We just mentioned the statute of limitations for filing a civil lawsuit for car accident injuries. It is important to file even if you would rather settle outside of court. In fact, most cases do end in a settlement. However, many insurance companies will try to drag out the settlement process until the statute of limitations expires. This can force you to accept a lower offer.
Your lawyer should file the civil lawsuit for car accident injuries to ensure that further legal action is still available to you while working aggressively to negotiate.
After reviewing the evidence from the discovery phase, the defendant or their insurance company will most often extend a counter-offer. And you can bet it'll be much lower than your proposal! This is part of the process. They don't want to pay more than they absolutely have to, and if they think they can get you to go away with a low ball settlement, they'll certainly try.
They typically do not want to go to court and let a jury decide, so don't be discouraged. Your lawyer will continue to negotiate until a reasonable amount can be agreed upon.
7. Settle… or Go to Trial
You're most likely to settle a civil lawsuit for car accident injuries:
When your lawyer files the paperwork to initiate a lawsuit
During the discovery phase or pre-trial conference
Before trial is about to begin
Filing a lawsuit does not mean you cannot settle, even if a trial has started. It is a way of protecting your rights and leaving that option open. It also gives you a stronger position at the negotiating table.
Again, most cases do not go to trial. If, however, the defendant and/or their insurer refuses to extend a reasonable settlement offer, you need a New Jersey attorney who is experienced in court cases. Many personal injury lawyers are not: they settle exclusively. Insurance companies know which lawyers are willing to take it in front of a judge and jury – and this makes them more likely to give you a fair settlement offer!
Callagy Law never backs down when your rights are on the line.
The New Jersey car accident lawsuit process is complex, and it is essential that you have an experienced, aggressive, and compassionate advocate on your side. Please contact us to schedule your free consultation today; we're right here with you, every step of the way.