Maritza Puente

Senior Trusted Advisor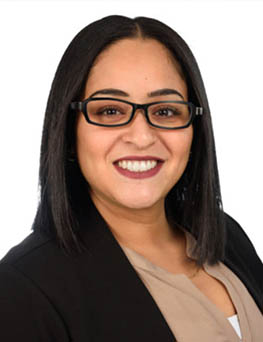 About Maritza
Maritza Puente is a Puerto Rican and Ecuadorian woman who lives in Bloomfield, NJ. She was born in Hoboken, NJ on August 11th. Maritza is a 32 year old mother to an amazing 11year old daughter. She is family orientated as she enjoys spending time with family and friends. Maritza is the youngest sibling of three women and has one nephew.
What excites her is traveling and visiting new places around the world. She has a fear of failure and being turned down. On her free time she spends it with her daughter watches movies, listens to music, goes shopping and takes care of life at home. The only sport Maritza watches is football her favorite team is the Giants.
Maritza's Life at Callagy
I began to work at Callagy Law on Columbus Day five years ago, October 2013. I was referred to Callagy by a very good friend of mine and began as a Liaison Assistant on the field. On the field as an assistant I began helping my Liaison identify, review and pull files for our clients. After a few years of expertise I became my own Client Liaison where I now do Medical Provider Revenue Recovery for my own clients. I help assist in the identification and assembly of claims to be pursued in PIP (No fault) arbitration for MVA's, Workers Compensation and Commercial Insurance. I am part of the customer service, relationship building, sales and marketing efforts of the firm.
I do not only enjoy working with Callagy Law but I love Callagy Law because not only are we a firm but we are a family. We are different from any other firm because we are Lions who strive to connect with people on many different levels and do not take no for an answer!
Education:
High School: Dickinson High School, Jersey City NJ graduated in 2004.
College: New Jersey City University, Jersey City NJ graduated 2012 with a Bachelors in Business.
Fun Facts about Me
I am daring, I have skydived and plan to do it again.
I am a member of the Callagy Law Lions softball team.