Coronavirus (COVID-19) Medical Revenue Recovery Huddle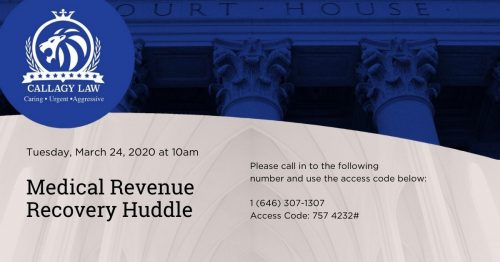 Callagy Law invites you to attend its Medical Revenue Recovery Huddle
Tuesday
March 24, 2020 at 10 AM
The aim of the Huddle is to provide our medical revenue recovery clients and non-clients with updates as to what is happening in the worlds of medical provider claim litigation and arbitration during these uncertain times.
It will also to provide a forum to answer any and all questions you might have regarding your claims.
Please call in to the following number: 
1 (646) 307-1307
Access Code: 757 4232#

If you have any questions or concerns contact Tom LaGreca at tlagreca@callagylaw.com or at (201) 485-9587.
Attorney Advertising. This information is provided for informational purposes only. Since each case is different and laws and regulations change constantly in the legal world, this should not be construed as legal advice. Please note that online activity, interaction and/or communication does not form an attorney-client relationship.