Callagy Law: New Jersey Divorce Law Services
Christopher Cavalli and Brian McCann manage Callagy Law's Family Law Department. They are Certified Matrimonial Law Attorneys in the State of New Jersey.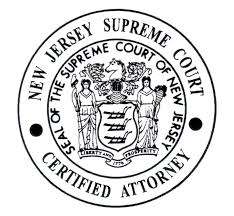 We realize divorce is devastating, not just to the couple but to the children of the marriage. With that said, most people do not enter into divorce lightly; many make several attempts at saving their marriage. Yet sometimes whether the reasons are limited resources or energy or a lack of collaboration between the two parties, divorce becomes inevitable. Every situation is different and so is every marriage that ends in divorce.
Our mission is to make divorce as painless as possible. We know how emotional, time consuming, and physically draining divorce can be. It can reap havoc on you, your children, and your extended family and friends. We realize that a New Jersey divorce in most cases is never effortless but we are passionate about making it as straightforward, uncomplicated, and undemanding as we can for our clients.
At Callagy Law we do it all when it comes to Divorce:
New Jersey Divorce and Separation
Mediation, Arbitration, Trial & Reconciliation
Alternative Dispute Resolution (ADR)
Child Custody, Parenting Time Awards, Visitation Rights & Change of Custody Applications
Child Support, Alimony, Spousal Support & Palimony
Matrimonial Annulment
Equitable Distribution and Property Settlements
Pensions, Tax Issues, Asset Matters, Retirement & Division of Business Interests
Domestic Violence Issues
Enforcement & Modification Motions
Collaborative Divorce
High Net Divorce
Military, Medicaid, International & Out-of-State Divorce
Divorce from Bed & Board
Contested & Uncontested Divorce
The New Jersey divorce laws have been put into place so that the Plaintiff and the Defendant both receive a fair outcome. To ensure this, it's up to you to choose an attorney and law firm that will support and guide you through the State laws and procedures that encompass divorce and related issues such as alimony, child custody, visitation, child support, and equitable distribution.
Callagy Law understands the strict guidelines and unique filing procedures that have been put into place for New Jersey divorce.
We have extensive experience in New Jersey divorce methods, spousal support, property division, alimony, custody issues, and so much more. When it comes to New Jersey Matrimonial Law, Callagy Law has a proven track record for successful, affirmative quality-driven negotiating skills for out-of-court settlements and an excellent reputation for trial success.
Callagy Law will be a source of comfort during your divorce process.
The repercussions from divorce can be ugly. Choose a divorce attorney wisely because a cautious investment like this can save you money and time and can significantly improve your chances for winning results.
Contact our office today for a complimentary consultation.